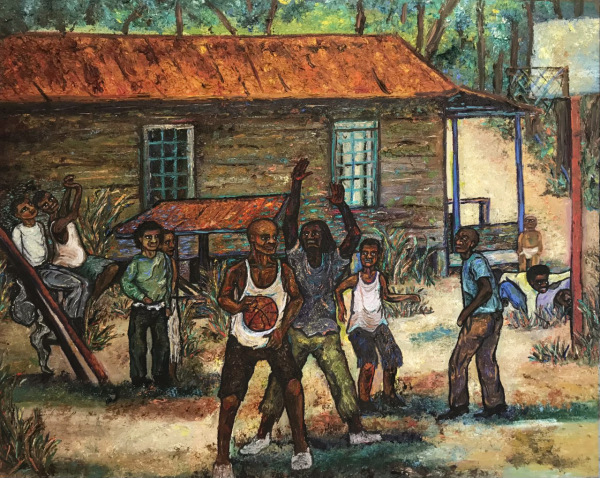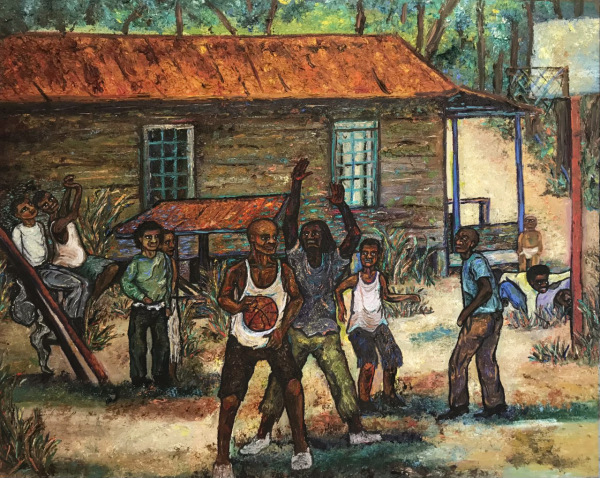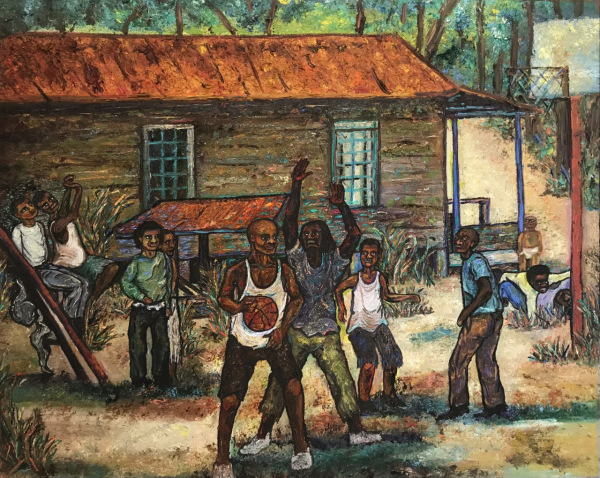 Half Court
24"h x 30"w oil paint on canvas, 2000, original
$2000
Last One!
OR
to buy.
Why do I have to register just to buy?
It only takes a second and we need your email and contact info for delivery. We are an artists run site and support privacy rights.
This shop lists the following fulfillment options:
Free local pickup.
Shipping charges billed separately.
---
About
---
Main Website
www.newmanesque.net
Bio
S. Newman: Artist Statement The objective of my painting is to embrace the viewer by selecting subjects that portray the common denominators between people. I attempt to offer a synopsis of familiar experiences translated into paintings. Thick layers of paint and textures created with steel wool represent the depths of our human experience and the potential each of us has to develop our better self. The central themes of work, play, relationships, and daily sustenance are represented to create a venue for the viewer to transfer themselves into a similar world. By transcending time and place, I try to provide an entrance for people to build empathy. My objective is to use art as a means of unification. I prefer thought-provoking, emotionally stimulating, easily identifiable subjects. In 1998 I was invited to become part of the San Francisco Museum of Modern Art Artist Gallery artists, and I have been with them until their closure in October 2021. Private collectors throughout France, Germany, England, and Tibet have purchased selected paintings. I have displayed my work at a number of Government facilities including Oakland City Hall, Mountain View City Hall Berkeley Municipal Building, Berkeley City Planning Department, City of Brentwood Community Center, The City of Albany Center for the Arts, Oakland Chamber of Commerce and The City of Alameda Law Library. In 2007 Atea (formerly Ementor), Europe's largest IT company with approximately 7,500 employees in over 7 countries, purchased "The Place To Be" by S. Newman, from the SF MOMA Artist Gallery. It is presented at all corporate meetings with their international partners and prospects, including Apple, Mac, and IBM. Atea subsequently acquired three additional paintings, but "The Place To Be" was replicated and hung in each office throughout the seven countries. It is a symbol of Cultural unity which embodies the spirit of their company and my paintings. To reach people is to feel their souls. That is my goal as a painter.
Shop Info
www.newmanesque.net
More items available from @SNEWMAN

---
Check out these other unique items created by local artists:

Sell your artwork with a free Artquarter Artist store. |
Register
a new account. |
Login
to an existing account. | Learn more about
free artists e-commerce stores
on ArtQuarter.
ArtQuarter is managed by
Studio 23 Gallery
2309 Encinal Ave Unit B Alameda CA 94501 • Billing by
Digifli
. Development by
Entexture
.
All images are Copyright © 2020 and owned by the respective creators. All rights reserved. No images may be used without the express permission of the copyright owner.